POISON IVY REMOVAL SERVICES
Poison ivy is one of the worst weeds to have grow on your property. It is impossible for you and your family to enjoy your residence if poison ivy is present. This weed is absolutely intolerable on your commercial property. If you believe that their is poison ivy around your home or business, you need to call a lawn care professional for assistance. At New England Lawn Care Inc., our lawn maintenance specialists are highly adept at poison ivy removal in Westfield and the surrounding areas of Massachusetts and Connecticut.
We have over 20 years of experience in the lawn care and maintenance industry. In every service that we provide, our professionals work their hardest to achieve the highest level of customer satisfaction possible. When you hire us for your poison ivy removal needs, our team will bring this dedication to excellence to task for you. We will remove the poison ivy and dispose of it safely.
If there is poison ivy around your home or business, call New England Lawn Care Inc. today. Our professional and knowledgeable staff would be happy to take your call, to answer any questions that you may have, and to schedule your appointment today with one of our weed control experts.
Poison Ivy Removal in Westfield Made Easy
Removing weeds from your property is a difficult enough task as it is. However, when those weeds can be harmful to your health, the task becomes entirely unmanageable. Trying to remove poison ivy can be extremely frustrating and dangerous. Leaving it around your home or business is even more problematic.
Whenever you are dealing with a difficult weed control situation, it is highly advisable that you call a professional for help. At New England Lawn Care Inc., our Westfield lawn care specialists are ready and eager to assist you. All you will need to do is to sit back and relax while we handle this difficult task. We will remove all poison ivy and other unwanted weeds from your property in the safest and most responsible manner.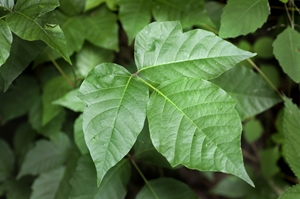 Poison Ivy Removal Conducted by Westfield Weed Control Experts
At New England Lawn Care Inc., our Westfield weed control and poison ivy experts are proud to specialize in responsible lawn care services. If you are concerned about preventing poison ivy and other weeds from growing on your property, it is best to take a comprehensive approach to the problem.
Our professionals can take preventative measures to ensure that your property is always kept clear of poison ivy and other dangerous weeds. You can rest assured that we are using responsible and safe methods to keep your lawn and landscaping looking its best at all times. You and your family are guaranteed to be pleased with the results.
If you are interested in our poison ivy removal services in Western Mass, Northern CT or nearby, please call 413-539-3101 or complete our online request form.